Our student & emergency services package is just £28 for 3 courses + 1/2 bottle of wine per head. We can cater for groups of between 10-120. You'll also get free access to our giant 8-player table football! Take a look at what's on offer below and drop us an enquiry and our team will be happy to help with planning your group event. 
STUDENT & EMERGENCY CHRISTMAS MENU
£28 for 3 courses & 1/2 BOTTLE OF WINE PER HEAD

Belu Filtered water £2 
Proceeds go towards charity
Rosemary Focaccia (VG) & Nocellara Olives (VG) £6
Burrata (gf)
Burrata from Puglia, roasted pumpkin & hazelnuts
Parsnip Skordalia (vg)
Garlic & parsnip whipped dip, toasted hazelnuts & Sardinian bread
Chicken Parfait
Chicken liver parfait with cranberry sauce served with a caramelised chutney & toasted bread
Beef Carpaccio (gf)
Marinated beef carpaccio, rocket, aged Parmesan & mustard dressing
Porchetta
Roasted pork belly, maple roasted parsnips, potatoes, braised red cabbage & cider jus
Ribollita (vg)
Tuscan stew with cannellini beans, cavolo nero, spinach & tomato
Risotto (v) (gf adaptable)
Risotto carnaroli with leek, wild mushrooms, thyme & aged Parmesan
Amatriciana
Paccheri pasta with guanciale (cured pork cheek), red wine, tomato, calabrian chilli & pecorino romano
Pizzas
(all gf adaptable)
Margherita (v)
Tomato sauce, fior di latte, basil, extra virgin olive oil
Anchovy & Garlic
Tomato sauce, fior di latte, black olives, capers, anchovies, oregano, garlic oil
Double Trouble
Tomato sauce, chicken, ventricina, smoked mozzarella, jalapeños, aged Parmesan
Mushroom & Truffle
Mascarpone base, Taleggio, chestnut mushrooms, white truffle oil, Parmesan
Meatballs
Tomato sauce, mozzarella, homemade pork & beef meatballs, crispy kale, chilli and aged parmesan 
Norma (v)
Tomato sauce, fior di latte, aubergine, basil, salted ricotta
Living On The Veg (vg)
Tomato sauce, spinach, red onion, black olives, sun-dried tomatoes, dried chillies, herb pangrattato
Winter Bloom
Roasted butternut squash, smoked mozzarella, fennel sausages, chilli, parmesan shavings and garlic oil infused with sage
Baileys Tiramisu
House tiramisu with baileys liqueur
Panettone bread & butter pudding
Served with pistachio ice cream
Hazelnut Affogato (vg adaptable)
Vanilla ice cream, hazelnuts praline, espresso & Frangelico liqueur
Pannacotta (gf)
Orange & Cardamom panna cotta with spiced clementine and pistachio crumb
Selection of Italian Gelato or Sorbets (vg, gf)
half bottle of wine per head included
 White: Borsari Inzolia Terre Siciliane (vg)
Fresh and light with lemon and peach fruit notes.

Red: Sangiovese Puglia (vg)
Easy drinking, soft and fruity with a red fruit flavour and smooth tannins
Rosemary Focaccia (vg), Nocellara Olives (v, gf), Rocket & parmesan salad (gf), Winter slaw (v, gf), Roasted potatoes (v, gf), Selection of dips
Please note a discretionary 10% service charge will be added for group bookings. 
Our offer is available Sunday – Wednesday, Suitable for groups of 10-120
student Christmas Party enquiries
Please note our student & emergency services offer is only available Sunday – Wednesdays.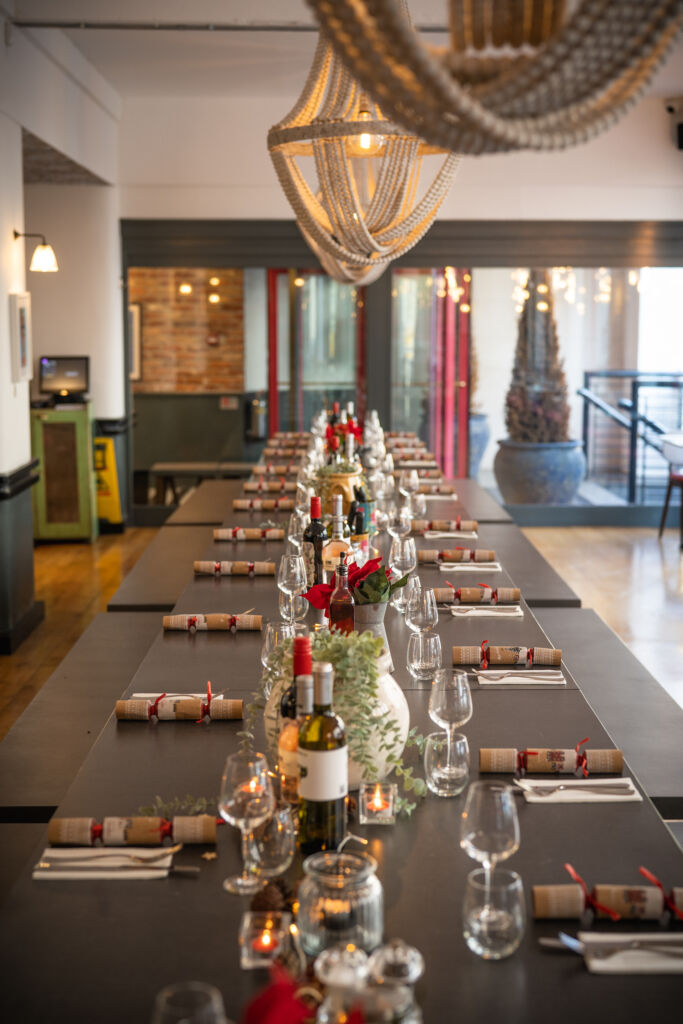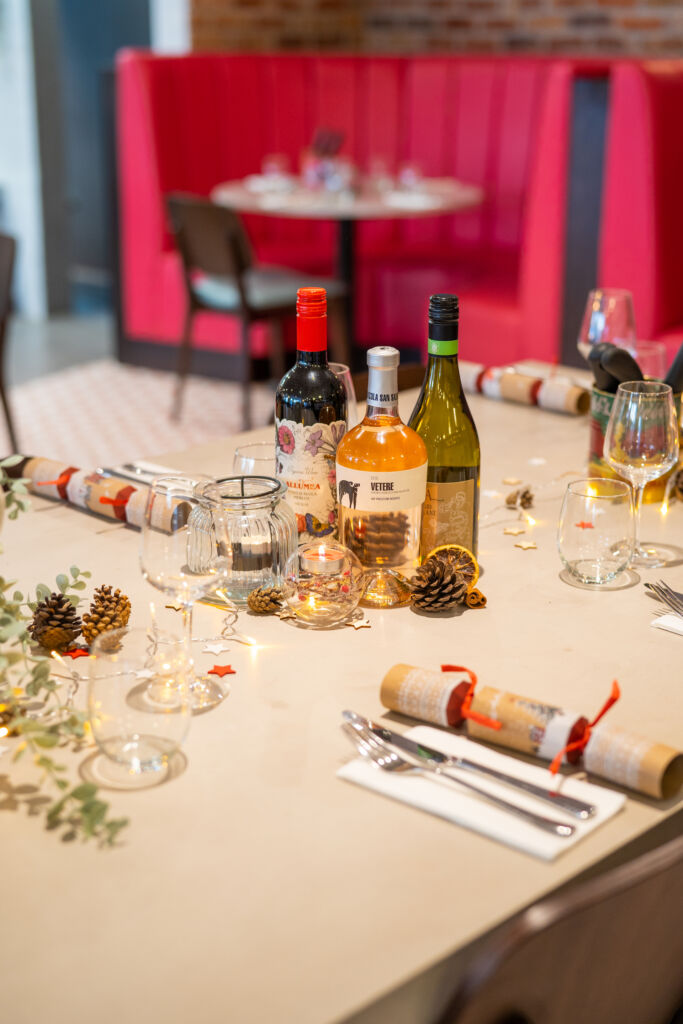 Christmas party Bristol Christmas party Bristol Christmas party Bristol
Christmas party Bristol
Christmas party Bristol