student & emergency services christmas parties
Our student & emergency services package is just £28 for 3 courses + 1/2 bottle of wine per head. We can cater for groups of between 10-120. You'll also get free access to our giant 8-player table football! 
Take a look at what's on offer below then drop us an enquiry and our team will be happy to help with planning your group event. 
STUDENT & EMERGENCY CHRISTMAS MENU
£28 for 3 courses & 1/2 BOTTLE OF WINE PER HEAD

Winter Burrata (gf)
Burrata from Puglia, radicchio, blood orange, walnut pesto
Parsnip Skordalia (vg)
Roasted parsnip purée, toasted hazelnuts, maple syrup, served with artisan bread
Beef Carpaccio (gf)
Marinated beef carpaccio, rocket, green peppercorns, Parmesan & lemon dressing
GARLIC BREAD (vg) / CHEESY GARLIC BREAD (v)
Margherita (v)
Tomato sauce, fior di latte, basil, extra virgin olive oil
Double Trouble
Tomato sauce, mozzarella, chicken, ventricina (spicy salami), smoked mozzarella, jalapeños, Parmesan
Calabrian Hot
Tomato sauce, ventricina (spicy salami), nduja, basil, burrata from Puglia
Anchovy & Garlic
Tomato sauce, mozzarella, black olives, capers, anchovies, oregano, garlic oil
Living On The Veg (vg)
Tomato sauce, spinach, red onion, black olives, chillies, herb pangrattato
Norma (v)
Tomato sauce, mozzarella, aubergine, basil, salted ricotta
Porchettosa (white base)
Smoked mozzarella, porchetta (Italian roasted pork belly), rosemary roasted potatoes, gremolata sauce
Mushroom & Truffle (white base)
Marscapone base, taleggio, chestnut mushrooms, white truffle oil, Parmesan
Ribollita (vg)
Tuscan stew with cannellini beans, cavolo nero, spinach & tomato served with focaccia
Cannelloni
Filled canneloni with sausage ragu, spicy nduja, Béchamel & aged Parmesan
Baileys Tiramisu (v)
House tiramisu with baileys liqueur
Hazelnut Affogato (gf, vg adaptable)
Vanilla ice cream, hazelnuts praline, espresso & Frangelico liqueur
Panna Cotta (v, gf adaptable)
Orange & Cardamom panna cotta with pistachio crumb and cantucci biscuits
Selection of Italian Gelato or Sorbets (v, vg, gf)
Vanilla, Pistachio, Strawberry, Chocolate, Lemon Sorbet, Amarena Cherry
half bottle of wine per head included
 White: Borsari Inzolia Terre Siciliane (vg)
Fresh and light with lemon and peach fruit notes.

Red: Sangiovese Puglia (vg)
Easy drinking, soft and fruity with a red fruit flavour and smooth tannins
Rocket & parmesan salad, Parmesan Truffle Fries, Rosemary fries
Please note a discretionary 10% service charge will be added for group bookings. 
Our offer is available Sunday – Wednesday and is suitable for groups of 10-120
Pre-order some drinks packages to ensure your Christmas Party goes as smoothly as possible and you get the best deal! Check out our options below.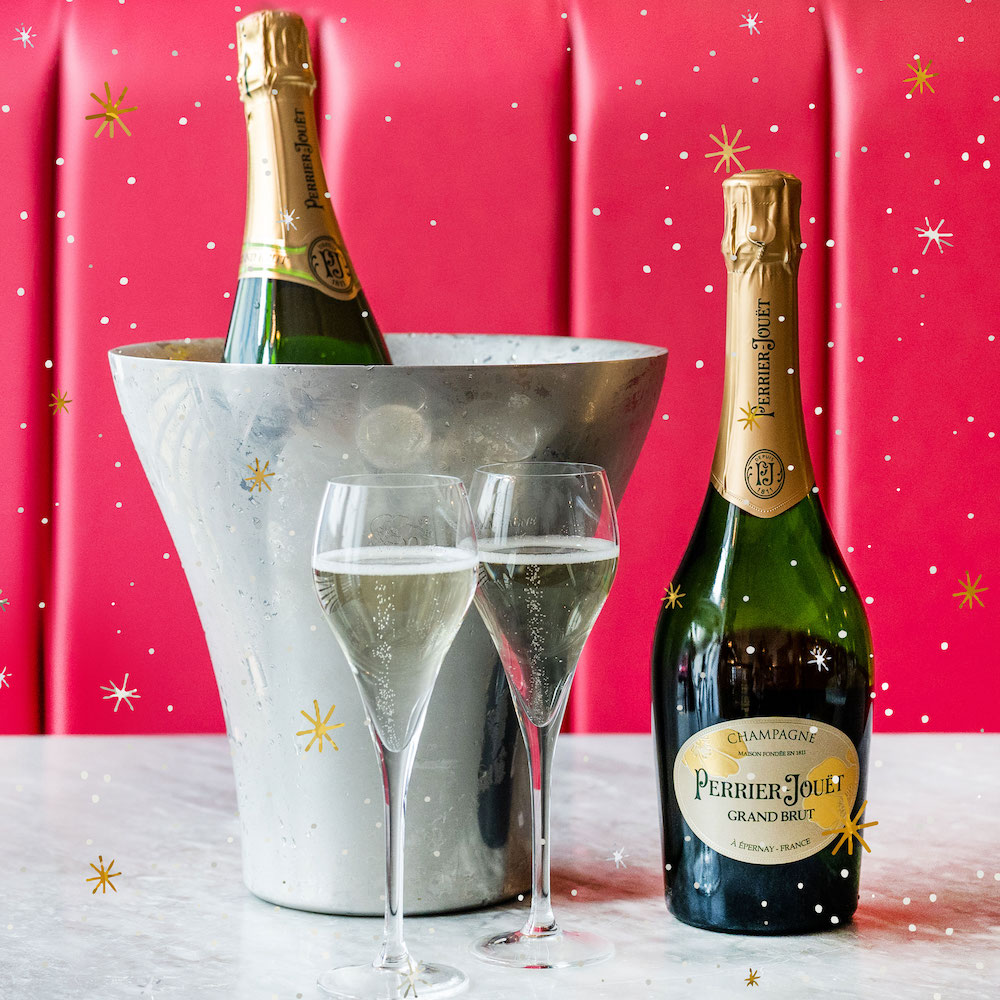 student Christmas Party enquiries
Please note our student & emergency services offer is only available Sunday – Wednesdays.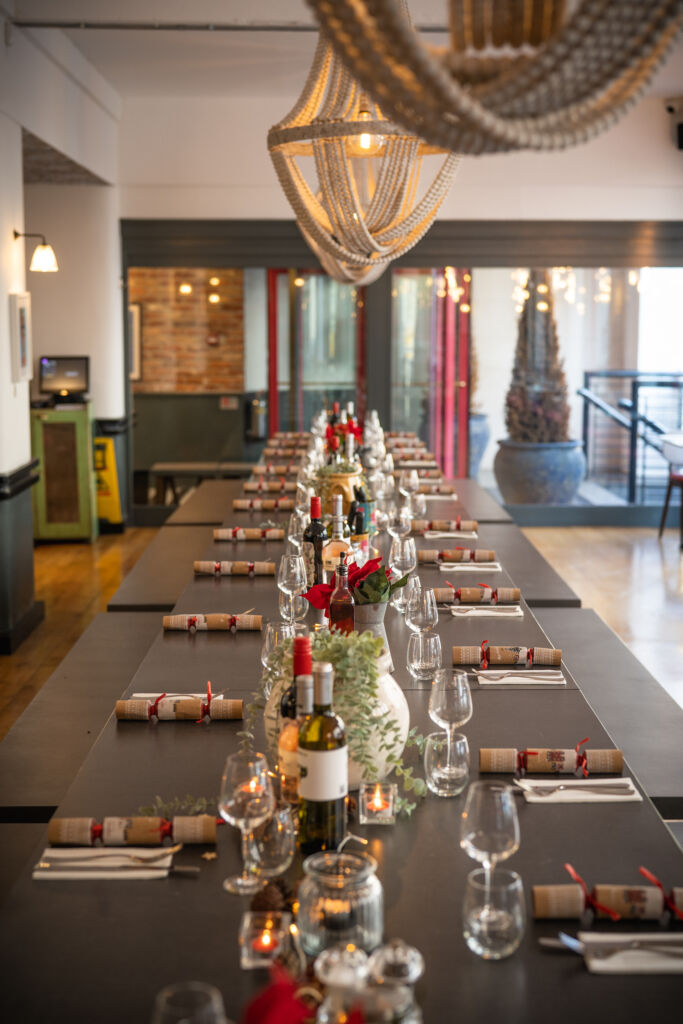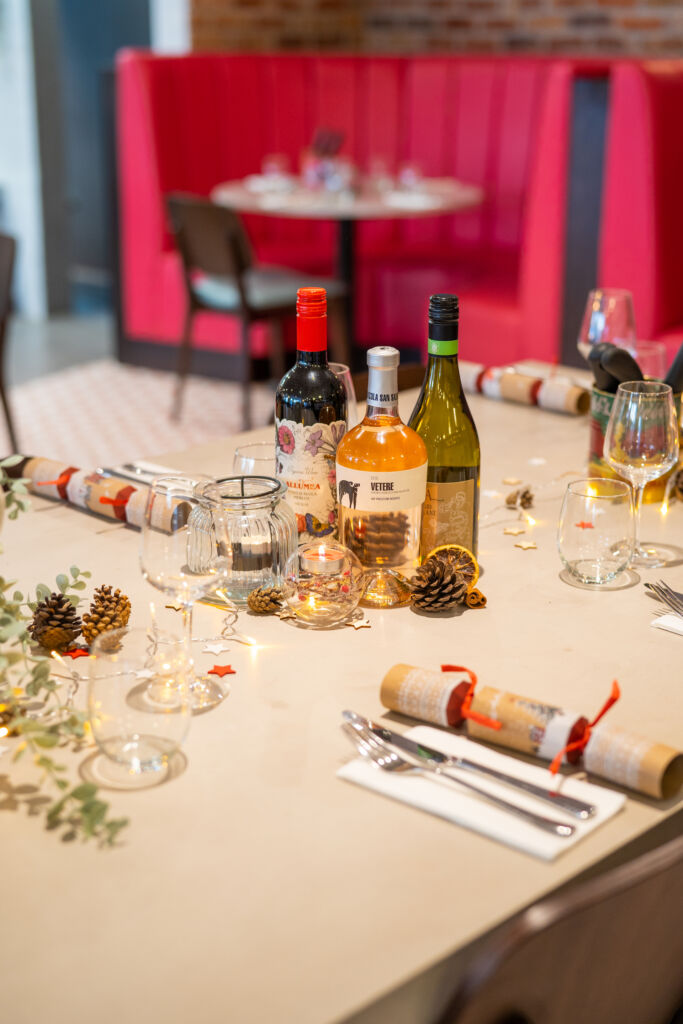 Christmas party Bristol Christmas party Bristol Christmas party Bristol
Christmas party Bristol
Christmas party Bristol